About Custom Cabinet Construction
At Amish Cabinets of Texas, no two designs are the same. Down the 1/8″ of an inch, we bring unmatched attention to detail to every project. Following the design process, our meticulous cabinet-makers begin to build. Our cabinetry maintains a rare balance of endless versatility and uncompromising quality. As a result, each project is individually stunning and inherently durable.
As we work to bring your clearest vision into view, our designer asks you to examine aspects of cabinetry that you previously overlooked. Below, we outline a few key characteristics of our cabinetry. Notice the authentic woods, and augmented storage area. Most importantly, notice the many options available to you when you choose to place Amish Cabinets of Texas in your home.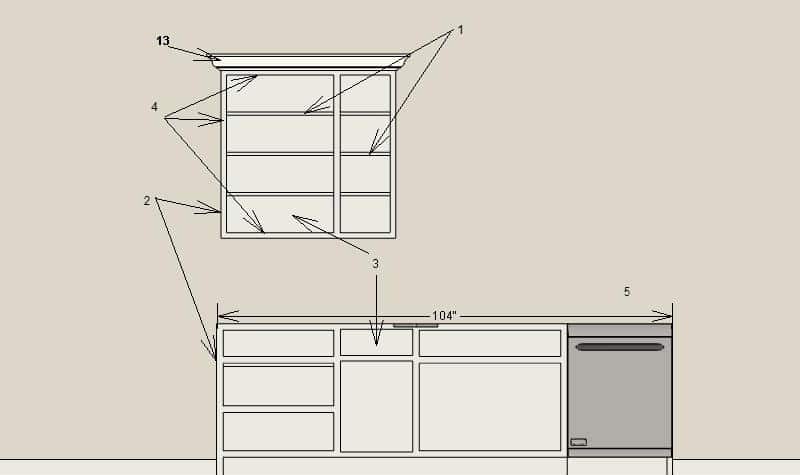 1 – Adjustable Shelves: ¾" thick plywood UV Birch on 2 sides with wood veneer edge band. Resistant to water and most household chemicals. Any depth shelf is available. For open cabinets or glass front cabinets coordinating solid-wood-cap instead of edge band; stained and 2 topcoats applied.
2 – Flat Panel End (FF): ½" thick solid wood on 1 side for resistance to water and most household chemicals. Interior ¼" UV Birch Glued to unfinished ½" side.
2 – Raised Panel End (RPE): ¾" thick hardwood with ½" UV Birch glued to back of RPE, incorporated into the construction of the cabinet resulting in a matching interior finish behind closed doors.
3 – Back: ¼" thick plywood, to match.
4 – Top/Bottom/Sides: ½" thick plywood, UV on one side for resistance to water and most household chemicals matching the shelves and end panel material. Bottoms are finished 2 sides.
5 – Boxes: Custom cabinets built to 1/8" increment; divided as needed for design customization. We build one continuous box; truly custom and no need for filler boards or spacers. We also use Custom miter lock joint construction to increase the integrity and stability of the box.
6 – Doors: Endless styles to choose from or create your own unique, one-of-a-kind, door style. You choose the profile of the panel, the inside and outside edges so you can mix and match to create your own door. Door construction includes slab, cope and stick, mitered, as well as, mortice and tenon options available.
6 – Doors: Raised panel and Flat panel – ¾" solid wood stiles and rails with cope and stick construction. ½" overlay is standard, inset, inset beaded, full overlay, and frameless options available.
7 – Door Bumpers: Stop sign shaped, clear rubber, stick on.
8 – Face Frame: ¾" solid wood, glued, screwed and toenailed from the back with pocket screws. Vertical and horizontal stiles and rails are 1 ½" wide. No center stiles, providing more open accessible space in each cavity.
9 – Hinges: Blum European hidden hinges with soft close mechanism. Overlay of door to rail is ½" standard, we offer Inset, Inset Beaded and Full Overlay options.
10 – Hang/Nail rail: ¾" x 1 ¼" thick hardwood (Birch or Maple) attached and finished inside the cabinet, for upper cabinets. Base cabinets have 1" x 1 ½" Raw Beech stock.
11 – Drawer Glides: Blum full extension side mount glide is standard. Undermount, full extension soft close is available.
12 – Drawer Box: 5/8" thick American Beach dovetail corner constructed boxes with ¼" UV Birch floor dado into dovetail box. Drawers over 20" wide are ½" UV Birch.
13 – Crown: Choose from many different crown profiles. Included.
One of the most popular choices for residential doors is the panel door. This type of door is strong and gives a great appearance as opposes to battened doors. Our panel doors are also known as stile and rail doors. These great doors are constructed with panels, with the one on display being a 5-panel door. The panels on these doors are usually shaped to a pattern and are installed between the rails and stiles that develop outside the frame of the door. These doors are great for a number of reasons.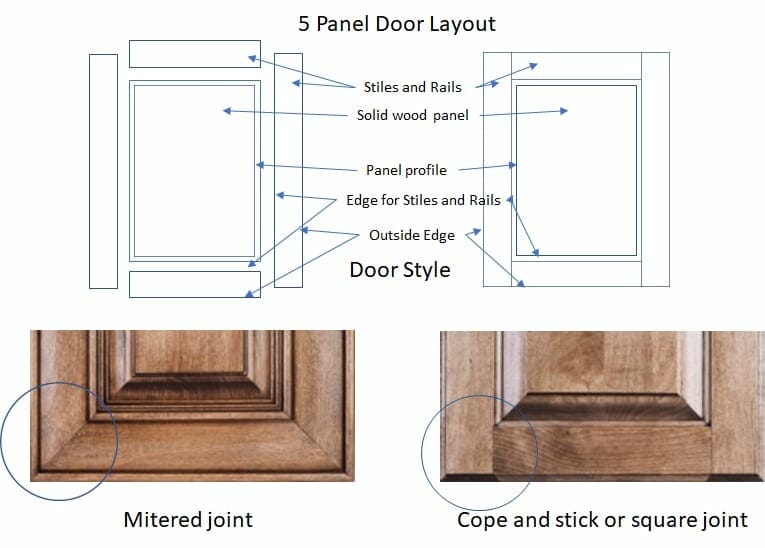 For one, panel doors are hard strong. Usually, panel doors are used for exterior use. The elegance and natural beauty of this type of doors are truly spectacular to look at. Additionally, these doors are easy to design in a multitude of ways. As a result, you'll have a wide range of options when it comes to how the door looks. Clients love the fact that we offer customized products, as they want to make their home unique and different. Our panel doors will give clients that appearance they desire while also requiring less maintenance than other types of doors. If you are interested in our durable and customizable panel doors, make sure to contact us at your earliest convenience. Moreover, you can reach Amish Cabinets of Texas by calling (281) 587-2663. We can't wait to speak with you personally and help you in the best way possible.
Construction Details
---
The finest furniture captures beauty, efficiency, and strength, all at once. Cabinetry that only possesses one of these qualities will soon agitate you, and those which embody two of the three will leave much to be desired. However, custom cabinets built both to last and to impress will do just that, for generations to come. Each intricate construction detail of your Amish Cabinets of Texas lends itself to the achievement of your unique storage and interior design needs.
Custom Miter Lock Joint
Named after the tall, pointed headdress worn by bishops, this joint describes two beveled joints that form a corner. Miter joints are often criticized for their weakness, but our custom miter design amplifies its strength. We use our specialized miter joints for both cabinet drawer and door construction.
Dove Tail Drawer Joint
Traditionally, dove tail joints were used in absence of suitable wood glues. The tapered shape of the joints held woodwork together; the inherent beauty of the design is a fortunate upside. At once uniform and elaborate, dove tail joints are admired in contemporary carpentry more for aesthetics than functionality. You'll find the traditional dovetail tucked away in the corners of the drawer boxes. Each drawer box is reinforced with a dado (slide-in) joint design, for superior stability.

If you want to learn more about our technical description of cabinets, click here.

$('h3').attr('style', 'font-weight: 0 !important');