Custom Cabinet Construction – Amish Cabinets of Texas
1. Adjustable Shelves: ¾" thick plywood UV Birch on 2 sides with wood veneer edge band. Resistant to water and most household chemicals. Any depth shelf is available. For open cabinets or glass front cabinets coordinating solid-wood-cap instead of edge band; stained and 2 topcoats applied.
2. Flat Panel End (FF): ½" thick solid wood on 1 side for resistance to water and most household chemicals.  Interior ¼" UV Birch Glued to unfinished ½" side. Raised Panel End (RPE):  ¾" thick hardwood with ½" UV Birch glued to back of RPE, incorporated into the construction of the cabinet resulting in a matching interior finish behind closed doors.
3. Back: ¼" thick plywood, to match.
4. Top/Bottom/Sides: ½" thick plywood, UV on one side for resistance to water and most household chemicals matching the shelves and end panel material. Bottoms are finished 2 sides.
5. Boxes: Custom cabinets built to 1/8" increment; divided as needed for design customization. We build one continuous box; truly custom and no need for filler boards or spacers. We also use Custom miter lock joint construction to increase the integrity and stability of the box.
6. Doors: Endless styles to choose from or create your own unique, one-of-a-kind, door style. You choose the profile of the panel, the inside and outside edges so you can mix and match to create your own door. Door construction includes slab, cope and stick, mitered, as well as, mortice and tenon options available.
– Raised panel and Flat panel – ¾" solid wood stiles and rails with cope and stick construction. ½" overlay is standard, inset, inset beaded, full overlay, and frameless options available.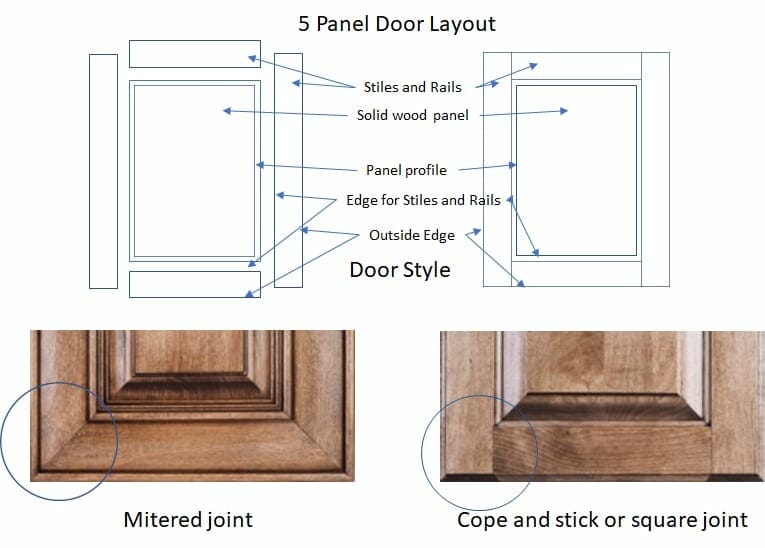 7. Door Bumpers: Stop sign shaped, clear rubber, stick on.
8. Face Frame: ¾" solid wood, glued, screwed and toenailed from the back with pocket screws. Vertical and horizontal stiles and rails are 1 ½" wide. No center stiles, providing more open accessible space in each cavity.
9. Hinges: Blum European hidden hinges with soft close mechanism. Overlay of door to rail is ½" standard, we offer Inset, Inset Beaded and Full Overlay options.
10.Hang/Nail rail: ¾" x 1 ¼" thick hardwood (Birch or Maple) attached and finished inside the cabinet, for upper cabinets. Base cabinets have 1" x 1 ½" Raw Beech stock.
11. Drawer Glides: Blum full extension side mount glide is standard. Undermount, full extension soft close is available.
12. Drawer Box: 5/8" thick American Beach dovetail corner constructed boxes with ¼" UV Birch floor dado into dovetail box. Drawers over 20" wide are ½" UV Birch.
13. Crown: Choose from many different crown profiles. Included.
14. Hardware: Pulls and knobs. 100's to choose from at Amerock.com. Up to 5" included.