Are you looking for Houston Texas Amish cabinet makers? You may have heard that the craftsmanship of our custom cabinetry is outstanding. Perhaps you already know that Amish built is synonymous with quality and want to give it a shot. Regardless of the reason, we would love to oblige you. Our company has been working in this industry for a long time and we understand the rigors that are required of it.
You will find our process to be far more intricate and rewarding than any other. The amount of creative freedom that we offer is simply unparalleled. This is why we are so proud to provide this service to our clients. You'll fall short with any other cabinets around! When you get the chance to renovate your home, we'll show you why you won't want to miss out on the cabinets. They can totally change the outlook of your home.
A Little History About Houston Texas Amish Cabinets Makers
Our company has roots in humble beginnings. Emerging from small communities the planes of west Texas, we have redesigned our company to reach the entire state. Traditionally it was only a small crafter who made custom designs for local neighbors. Yet when the company evolved in 2008 due to new owners, it has been expanded to providing these custom services to all different kinds of clientele.
They have contracted a more efficient and expert team that will have your project done in no time at all. We want to ensure that your home is getting the utmost care. That is why we began making custom cabinetry. The benefit of having order within your home can influence all other parts of your life. It will help you stay more organized as a person. At Amish Cabinets Of Texas, we're happy to help make the home of your dreams!
What Do I Need To Get Started?
First, you will have to schedule a meeting. This is the first stage in our process to build you a set of cabinets. The way that we operate is through open-ended questioning. Through this method, we can extract all of the useful information. Then we can coordinate it and, with your collaboration, make a concept.
This concept will be redesigned over and over again to continue making adjustments. We won't stop until you're totally satisfied with the job. That's why these sketches will continue to get better and better. The goal is to reach a consensus where you feel as though there is nothing left to add to your kitchen.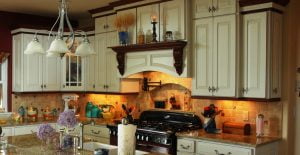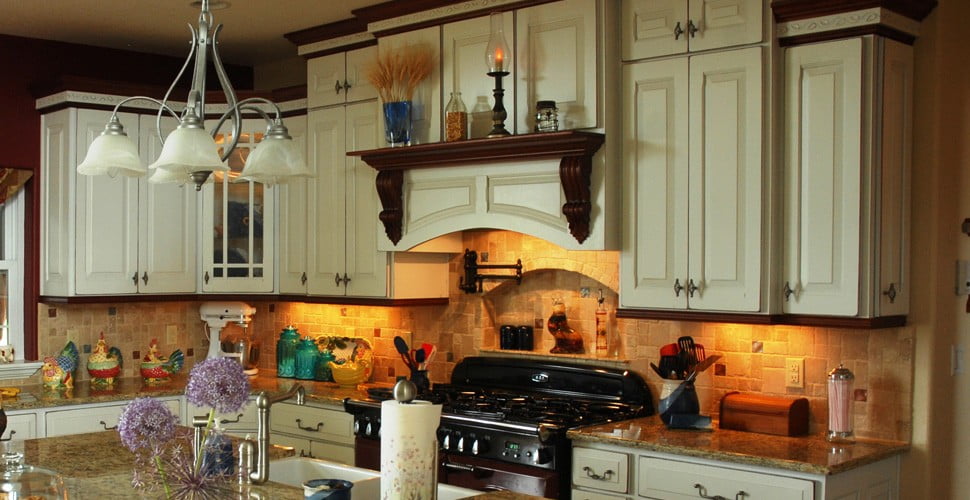 It Only Gets Better
After the first stage of designing, you will get another chance to make changes. That is because our designers will have had a chance to render the concept into 3D. Using the top of the line software, they render your cabinet design into a mock kitchen that resembles your own home. This will be the point where we decide on the final product.
We are going to be very thorough though, as there are a lot of different details that you have to keep in mind. The potential changes, additions or redactions will arise. Some that you may not have seen before, or couldn't have seen without the virtual walkthrough. That is why we go through trial and error. At this point, we will have gathered all of your critiques, comments, and concerns. Now, you simply have to wait for us to make the adjustments and return.
Seeing It Come To Life
Once we have finished, you can select all of the materials and prepare for the final product. In our opinion, this is one of the most extraordinary parts of the project. We're sure that you'll agree. Seeing your home transformed and renovated into the picture is always a shock. In the best way, though. Now that you have agreed on the design that is exactly what you're looking for, you may find that the suspense is irresistible.
Don't worry, since our Houston Texas Amish cabinet makers have such a highly skilled team, we can get the job finished in a short amount of time. This way, you won't have to be moved out of your home for longer than is comfortable. We'll ensure that everything is put back where it was when the time comes to wrap it up. Your home will be pristine and in mint condition. Perfect and ready for you to indulge in the brand new designs.
Cabinets To Die For
You may not have thought before that your cabinets could be valued so highly. That is a common misconception that we are always happy to dispel. When our clients get their cabinets installed, they typically find the enhanced quality of their home to be immediately apparent. Whether it is in the visual organization of the room, making it feel larger and more open, or it's the order and efficiency that the cabinets individually offer. Either option will be possible, although both are likely if you spent enough time in the design process. That's why we don't rush that step!
Get A Free Estimate Now!
In order to get your cabinets done, we'll be happy to speak and gauge the project for you. We want to make sure that you get everything you need so we won't charge you for the meeting. The drawings, the renderings, and all of the conceptual work will all be complimentary. This way, you can get exactly what you want and even have second opinions if need be.
Contact Us
The best Houston Texas Amish cabinet makers are with Amish Cabinets Of Texas! You can get the best renovations to your home through our services. Let custom cabinetry change your home for the better. Feel the satisfaction of having order and efficiency in your home. We can help make your dream house a reality, all it takes is a call! In order to reach us, our number is (281) 587-2663 but you can also visit our website, too. We are always happy to help clients get the best out of cabinetry, let's get started with your home next!
FUN FACTS ABOUT HOUSTON TEXAS
Explore Hermann Memorial Park
The Medical District is one of the best in the world!
George Bush Intercontinental Airport Is located here
For more information about Houston, click here!
$('h3').attr('style', 'font-weight: 0 !important');