Are you considering Houston Texas custom cabinet design form Amish Cabinets of Texas? If so, we can offer a few great reasons why that is a great choice. With our artisan craftsmanship and comprehensive customization options, you can get the creative freedom you desire with the quality you need to get the job done right. This is not going to be a fast or easy job to simply run through.
We want to ensure that you get exactly what you're looking for. In order to help clarify our work, we wanted to provide some insight into features that you can add. We'll also discuss the basic outline of a project and what it will consist of. Keep in mind that if we didn't mention a certain feature, that doesn't mean that we can't do it. You'll simply have to consult with one of our representatives to make it possible.
There are plenty of options that you can choose from, but sometimes it's knowing what is available that is the real challenge. In our line of work, we aren't worried about resources, our limitation is in what you can think up. All of the possibilities lay in your mind and on the tip of your tongue. If you want to have a certain feature added, we established this company to offer you that freedom. Therefore, say the word and we will aim to have it done.
Interactive Cabinetry
There are many cases where you can have a mechanized cabinet design. This could be in the case of, say, a sewing machine. In this scenario, the sewing machine is quite cumbersome and takes up a lot of space on the desk. In order to clear the space and open up access to the desk without losing access to the sewing machine, we make an interactive cabinet.
Simply put, the sewing machine has an elevator compartment built into the desk that allows it to be moved up and down, in and out of sight at your discretion. Now, you can utilize the desk when you need a desk, or the sewing machine when it comes time to sew. These sorts of interactive cabinets can be applied in all sorts of situations.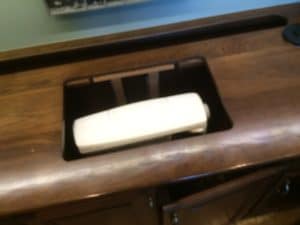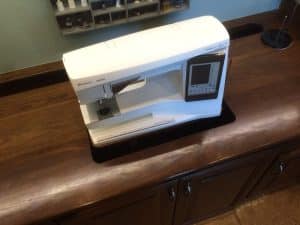 Dividers
If you consider your utensils or your pots and pans for a moment, chances are you may find that they are not in the most organized position. That is because the cabinets are not made for them. That seems like a silly concept, why would the home come ready for your unique living conditions? Only if you had these cabinets specifically made for you would they offer a service of this variety. In this case, the drawers and cabinets would actually be made with dividers for organization.
Place all of your knives, forks, and spoons in their own space without having to get different makeshift holders. You can do the same for your pots and pans as well. It's an effective change that can totally reorganize your kitchen. It may even enhance your lifestyle and productivity in the process!
Storage
Consider for a moment that your brooms, pans, mops and other cleaning equipment are stuck in a coat closet. They should be in an area that can hold them properly. Instead, you are having to bend down, moving coats and shoes in the process just to reach one of these items. In another scenario, with custom cabinets made to hold these tools, you simply have to open up a single cabinet door to get what you need. As you can see, the amount of energy saved is just staggering.
Hiding Trash Cans
That technique can be done to make certain items more accessible and other items more elusive. For instance, no one wants to see the trashcan in particular. It may be needed for certain circumstances but on an average day, it's not going to be something that people want to marvel over. It can also be the one aspect that stands out in an otherwise pristine kitchen, office or other room. This is why a cabinet that completely hides the trashcan from view can be a great option. You will have the advantage of still being able to use the trashcan without compromising your aesthetics.
Access To Other Areas
This is one of the more complex strategies that you'll have to think deeply about. Certain homes have very unique ways of storing their goods. They have a drawer for the bread, a place to store the food, and also the spices. They may like to keep a very clean and organized manner about their kitchen. In these cases, options that allow access to multiple areas by one action is an efficient and ergonomic innovation.
For example, if you want to have a drawer that opens up for the bread, and then have a slide-out tray to bring the bread out, it can be a great addition. However, if you want to open that same drawer and slide the tray over to access your pasta, you can get this technical change done with Amish. We can even add a lazy and into the cabinet to hold all of your spices. This way you are able to swivel the lazy and peruse your spices instead of fingering through all of them until you find the right one.
We specialize in building the most efficient and beautiful cabinets for homes. Our clients have utilized our veteran skillsets to renovate their homes into dream houses. Their vision, combined with our capabilities, bridges the gap between dreams and reality. If you would like to begin working together, you can reach our representatives by calling customer service at (281) 587-2663 or simply visiting our website. Give us a call! We'll be looking forward to working with you! Amish Cabinets of Texas is your ideal candidate for Houston Texas custom cabinet design.
FUN FACTS ABOUT HOUSTON TEXAS
Home to NASA Space Center
Houston Rockets, Astros and Texans play here!
Westheimer Rd has over 3500 restaurants.
For more information about Houston, click here!
$('h3').attr('style', 'font-weight: 0 !important');